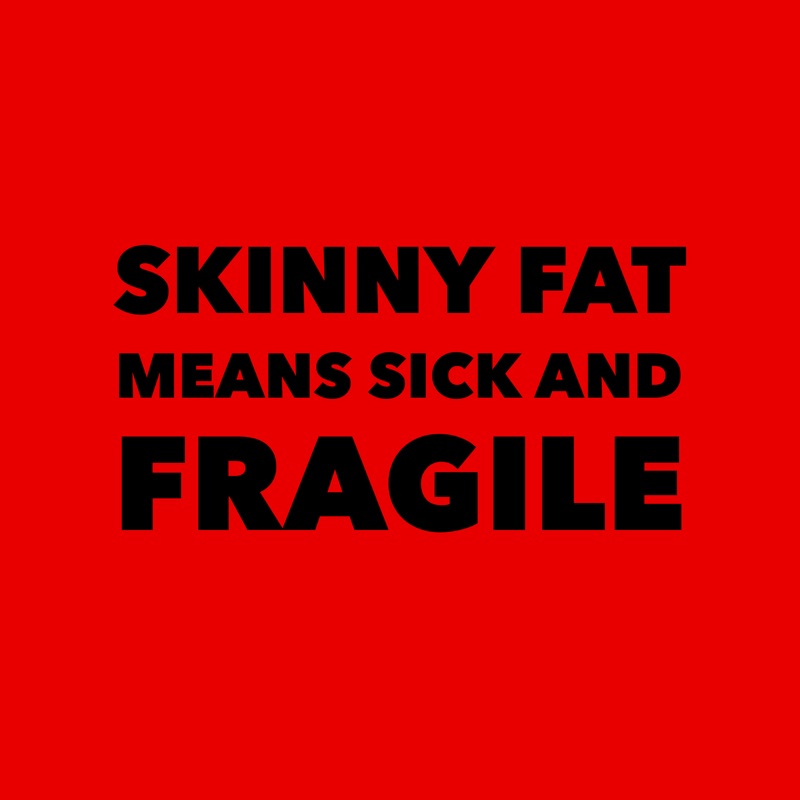 We all know people who just eat garbage and don't move at all and in spite of all that they look skinny. They are
skinny fat people!
You tell them: "I hate you! You look great and you don't have to do much. You still enjoy your frozen microwaved pizza, coke and sour candy. You don't lift weights at all and you sit on your ass all day at work."
"I hate you Darrel! You're natural. You just are and stay fit forever!"
And Darrel giggles and feels kind of great about it. Why wouldn't he? He is generally very lazy and hates any kind of extra exercise and physical movement. And he's not willing to give up on his goodies. And he's also not willing to give up on his comfort zone. And now he also believes that he's naturally fit and healthy good looking guy. So why change?
Skinny fat danger
The biggest danger of skinny fat is the fact that people that have weight that screams you're skinny, you're fine, you don't have to move much and you can eat whatever you want, do just that. They do nothing!
They think, that they won the gene lottery and are just fine without any effort.
But what happens is exactly the opposite. Not only skinny fat people suffer by the diseases like pre-diabetes, high blood pressure and other dangerous cardiovascular disease promoting conditions, they are also very fragile and easily prone to injury.
So in general, skinny fat people are worst off health wise than fat people.
Fragility comes with skinny fat
I mentioned this one briefly above. Skinny fat people are fragile like a wine glass.
Why?
Because they are inactive, weak and light. Compare it to overweight person. Now overweight person physically active is a healthy person.
My father always comes to my mind when I think of fat fit people. He's about 50 pounds overweight. He's massive. But he's incredibly strong. He can do 15 pull ups, 50 push ups in several sets and he can walk for hours without getting tired.
Yes he's fat and it's not pleasing to an eye to look at him. But his recent blood test and blood pressure test showed some incredible healthy 17 year old boy like results.
My father had recently an accident. He fell from the bike at high speed. He was bruised up, but he didn't brake anything and he was back working in his farm the next day.
If skinny fat guy has an accident like that, he is at best out from any physical activity for months if he even survives the massive tumble. And all that with long term consequences.
Now let's take overweight inactive person.
I still believe he's better off health wise than skinny fat person. Yes they are both inactive and sick, but the fat person at least carries all that weight around when he moves. That makes his bones and muscles stronger. While skinny fat guy structural system stays under no pressure at all and stays very fragile.
Skinny fat never achieves six pack abs
Healthy strong energy hungry, metabolism promoting muscle creates six pack abs body. And skinny fat people have very weak, lazy, energy satisfied muscles. Overweight inactive people have much more muscle and much more hungry muscle than skinny fat.
Anyway, if you ever want to be a proud owner of six pack abs athletic, strong, youthful, super lean body, do not ever be skinny fat person.
Skinny fat are very unattractive
That's just my opinion here. What's yours?
I believe skinny fat is the most unattractive combination off all. You can also call skinny fat – lazy weak and sick. I'm not trying to be judgmental or offend anybody, but please be rather fat active person with passion for good food than skinny fat on strict diet.
Longevity and skinny fat
Now, this is the biggest danger of being skinny fat. Skinny fat people don't last long. But who cares about lasting long? Everybody cares about sex appeal and great looks! But since skinny fat people don't have either, you might as well remind them the serious health issues that comes with being skinny fat.
Muscle is a source of great life and health. It's not the heart, lungs, liver and kidneys that keep you healthy. It all starts with muscle!
Everything we put in our mouths is pretty much killing us. It's the energy we need to live and survive. But all that process is slowly everyday killing us. Energy exchange and oxidation is a slow killer.
And when this process is not working efficiently, we start getting old fast. And what is responsible for keeping that process working efficiently? It's healthy lean active and attractive muscle mass. It's true when they say that, if you stop moving you start dying. True, true! Take it seriously.
It's way better to be fit fat than skinny fat
So if you don't buy into this six pack abs lean super fitness, I understand!
But please don't become a skinny fat person. Rather become fit fat person. You'll be much healthier, much stronger and, less fragile, more attractive and you'll enjoy life way more too. Yes you'll still eat crap and overeat at nighttimes. And that's ok if being a superhuman with six pack abs is not really a goal for you. It's all good.
Your next step further down the road will be turning from fat fit to six pack abs super fit.
And it's comming!
You'll reach the point where you'll want to improve your fitness and health. It's the common thing between people who rock in this world. They are never really completely satisfied with the state they are now. I hope you're one like that. And you can discover the incredible fitness, health and energy six pack abs super fitness offers.
Burly Viking – be one
A perfect example of the opposite of skinny fat is the burly Viking. Or my father. Very large muscle bound, also fat, not lean person who is very strong too. And very healthy!
It's not that bad health vise to be like burly Viking. Unless of course, you're ok with people thinking about you that you're lazy fat couch potato. My father looks like one. But he's not one at all.
It's much better to be perceived as a lazy fat couch potato that is healthy, skinny fit disciplined person who's completely sick. Because of course he's skinny fat. Does that make sense? Probably not. Let's move on.
Considering that vanity matters a lot in our world, you might choose the other unhealthy choice. But beware! Your health is at stake! Go six pack abs route instead if you care about vanity too much. And I thing everyone does.
Miracle of exercise
If you pack the health benefits of exercise into one pill, it would be the most health valuable pill and best seller in the world. Unfortunately no one can do that.
But, you can have those benefit. You can have the pill and swallow it in a form of vigorous exercise. Even if you're overweight and looking fat.
And majority of fat people do exercise. They want to look better. They know people see that they are overweight. It bothers them. It shatters their confidence. So they do something for it. They exercise! They move! They are trying!
Yes they eat crap and a lot if it. But they do the most important – they move! In their mind, moving is the key to good looks. And they're partially right. They still have to connect the other half to it – diet. But they're not succeeding just yet. I believe they will eventually. For now they are just healthy and strong. And fat. And that's good enough.
But what is skinny fat person to do? Nothing. He thinks he looks good. So why bother! He keeps eating crap and he doesn't move and exercise. He is missing on the most important – health promoting and most valuable pill of exercise.
Dangers of muscle mass loss
I'm almost 41 years old. I'm 6'3″ tall and 185 lb heavy. I have very low fat % and my six pack abs are clearly visible. No bragging! I can not pack naturally more muscle on my body.
I can't!
But I want!
But I can't!
It's impossible for me at this age. From now on I'll be slowly loosing that muscle mass. Yes, I plan to be losing it very slowly, because I'll strength train consistently and intensively forever. But I'll still lose some every year. You'll too. Everybody will.
You can gain heathy lean health promoting muscle mass only by lifting heavy things. We call it strength training or resistant training. There is no any other way to do it. None.
If you don't do any strength training in your life, you're loosing your precious muscle. This is kind of acceptable from health perspective when you're young.
But when you get older, it becomes unacceptable. Healthy muscle mass is very important to longevity. If you don't actively build and preserve it, you'll lose it.
And you won't last very long.
Remember that and don't let it happen!
The biggest danger of being skinny fat is that skinny fat thinks she is skinny. And that's already more than acceptable. So she doesn't lift weights. She's not building new muscle. And that's scary dangerous!
Skinny fat is a disease!
Now you know it. Don't be jealous about people who look skinny, but they don't do anything for it. If anything, these people should not be told that they are natural. Because they are simply walking skinny sick. These people are heading into older age with very bleak future. They are fragile.
Most of them have diseases like high blood pressure. They don't have much energy in their days. They lack muscle mass – the most important factor to longevity and overall health. And last but not least, they will never have six pack abs attractive body. Which is very sad. So don't be jealous of skinny fat. Maybe next time ask your skinny fat friend how he's feeling. I guarantee you, she won't say fantastic. Help them by not telling them how natural they are. Because they are not. They are sick actually. Can you tell them that? Probably not.
Related articles:
How to lose weight permanently – part 1
How to lose weight permanently – part 7
How to stop losing muscle mass – part 1 – muscle = great health