January 30th, 2013 Milan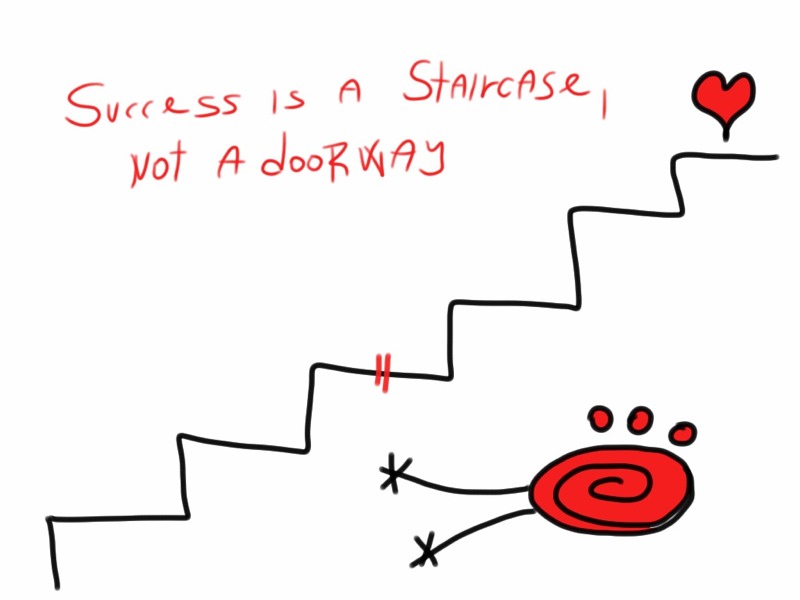 Having healthy body weight is not only attractive, it's very beneficial to your health. It's a great goal to set for yourself. It's a goal incredibly worth pursuing. It's hard and it's challenging. But at the end of the day, the hard and challenging things we do are those that have the biggest impact and value in our life's. So be strong, don't give up, go slowly and change your habits slowly over time.
Making things happen makes more things happen
You will hit roadblocks. And that's ok. As long as you don't give up on the road to getting into your ideal weight, you will eventually get there. It's really not about the destination that's that important. It's about the process. Process of loosing weight permanently is very hard. But it's a very rewarding process. And it is very achievable. It just needs your effort and attention, like everything else valuable in this world.
At the same time following your goal, you will not only loose weight, you will realize, that you can actually make things happen. And that makes more things happen. You realize that, you are ultimately responsible for achieving your goals, that you are in the driver seat of the vehicle that is your life. And that's very powerful at every aspect of your life!
I believe that by loosing that weight you always wanted to loose and keep it off, will change your life completely. You will become healthier, you will have more energy, you will be more attractive, more productive. And as I said before, your confidence will soar and that will make you achieve many more hard challenging goals in your life.
Good luck on your journey to your ideal body weight.
Here are the reminders of the action steps you will have to take over time:
Start your walking daily routine
Identify bad habits and change one each month
Don't buy anything that's bad for your health
Clean your cupboards and fridge of processed foods
Stay away from simple sugars and flour
Don't be too hard on yourself, make slow progress
Your carbohydrates come mainly from vegetables and fruit
Introduce strength training
Move while you work
Put provoking art that reminds you about your goal of losing weight
Stay positive, reward yourself with basket of strawberries or raspberries
Throw every junk food immediately to the garbage without any guilt
Teach somebody else these techniques
And most important – be patient! Your habits were developed over long period of time and they need time to be broken. Good luck to you on this incredibly worthwhile journey of losing weight permanently. Your health is after all, the most important think in your life. Fight like hell for it! And never give up!
How to lose weight permanently
>>How to lose weight permanently – part 1
>>How to lose weight permanently – part 2
>>How to lose weight permanently – part 3
>>How to lose weight permanently – part 4
>>How to lose weight permanently – part 5
>>How to lose weight permanently – part 6
>>How to lose weight permanently – part 7
>>How to lose weight permanently – part 8
>>How to lose weight permanently – part 9