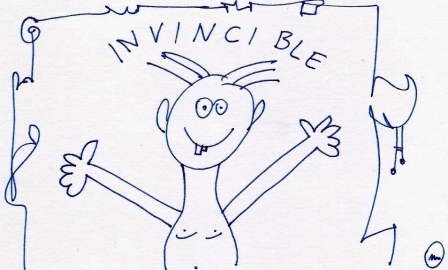 We all know somebody who did everything right taking care of his health. He ate a good diet, exercised regularly and stayed away from toxic materials. His weight is perfect, he looks good, he seems to have a lot of energy, he is happy and feels really good. But he was recently diagnosed with cancer, or heart disease, or Alzheimer's disease or Parkinson's disease, or pre diabetes, or diabetes or other kind of scary life threatening disease.
I myself have few very young friends that are looking very healthy, they seem to be doing everything right but they are dying of terminal disease. What is going on? Why these people? While some genetics certainly play some role, I thing the common sense general health recommendation is flawed. Yes, your doctor will tell you to eat healthy diet, exercise for 30 minutes on most days, stay away from the sun, don't smoke and don't drink too much alcohol. And your doctor is right for the most part. All this advice is good. And you will probably stay healthy for life following it.
Average health advice is still dangerous to your health
The problem with this advice is, that it is average. And average is just average. The averagely healthy people will be still getting very sick. Yes, they will. And you already know some of them. And it scares us wildly.
I am not exception, I still consider my lifestyle pretty health average like lifestyles of other averagely healthy people. I do average stuff, other average healthy people do. I ate pancakes the other day. I made them myself and used much healthier ingredients, like more eggs and less flour. And I didn't put any over sweetened crap like strawberry jam on it, but just a little bit of honey. But, this is exactly what average healthy people do. And most probably, they will stay healthy for life if they are lucky enough, including me. So, if my doctor tells me, to get my stuff in order because I am going to die in 3 years, I will know why. Those dam pancakes!
But, beside those pancakes I had 2 days ago, I am getting very close to that invincible like lifestyle. And I strongly believe, that closer you get to that kind of becoming invincible lifestyle, your chances of becoming seriously ill decrease even more.
I don't think that average in your health is a good state to be. It's ok to be an average skier or swimmer or to have average IQ, or be an average chess player. But in your own health, average is very, very bad place to be. Your health is the single most valuable think you have and doing everything you can to improve it is everybody's duty number one. If it's not, well than you are playing a Russian roulette with miss Death, where the odds are slightly on your side.
Take your doctors advice seriously, but don't stop there
I believe, that if you take advice from your doctor seriously and then dig even deeper and bring your health protecting lifestyle to the perfection and I am going to show you how, you will become invincible.
What does it mean invincible?
It means, that you will never get cancer, heart disease, diabetes, Alzheimer's disease, age causing dementia and you will live long and healthy life. So unless you drive your car as fast as my wife does, and climbing Mount Everest is not on your to do list, you will be certainly healthy. And I am writing this with the risk, that people who already are sick will hate me for claiming that they didn't do something right in their health preservation. And it is true. They didn't. And I don't do everything right either. But that's not the reason to get mad. We are all in fact human beings that make mistakes. Including me and you.
While I believe strongly that this is highly achievable, at the same time I am skeptical that many people will fallow this advice 100% right. I am not exception. While I don't smoke anymore, I still fall of track occasionally. It is very challenging to do it 100 % right. But if you know how this becoming invincible lifestyle should look like, you will at least be getting closer and closer to your 100% and slowly becoming more and more invincible. Information is power, even if it feels uncomfortable.
Yes, yogurt can be bad for your health
Just couple of examples. Do you buy yogurt your doctor recommended to you as a healthy food? Your doctor will probably tell you, that fat free yogurt is healthy. And you go to the store, get your vanilla flavored yoplait yogurt that is 100% fat free but has 25 grams of sugar in it. Yes in some way it is healthy, it contains protein and calcium, but that sugar makes it average healthy food. And already right there, you put strain to your immunity system by pouring 25 grams of plain refined sugar into your body. Part of becoming invincible means not eating generally considered heathy foods that are average for your health.
Another example is about sun exposure. Average doctor advice is, that you really need to protect your skin with a lot of sunscreen with highly protective factor SPF like 50 or 100 and to spend some little time on the sun everyday. This information is also average and can be damaging. It is not completely wrong, yes you need to protect yourself from sun exposure, but you also need som unprotected smart sun exposure. Plus, your doctor will not tell you that that sunscreen with high protective SPF factor can be very toxic for your skin. And it's more likely to cause skin cancer than sun does.
How about general advice about 30 minutes of vigorous exercise everyday to stay healthy that includes gardening, house cleaning and fast walking. Is that rally enough? Not, it is not. Not even close. Does that really mean, that as long as you are moving for 30 minutes everyday, you can sit and relax for the rest of the day? If that is what that means, and you do it that way, than you are in big trouble. You are not moving enough. And, you are not moving the right way either.
Healthy vs invincible
The question is: do you want your health to be average or exceptional? Do you want to be healthy or invincible? What would you do, if you knew, that you can become so healthy that you become invincible to any disease. And you can. There is a way to improve your average health to make it exceptional, so you become invincible. It takes a lot of work and som extra knowledge, but what else is more important to you? I will answer that question for you right now: absolutely nothing. Unless………..don't even get me started.
Although it is very challenging to do everything right on the road to becoming invincible, and only a very small percentage of people will actually apply what they will learn here. And I am getting very close to that level.
The other day, when I went shopping and was passing the register I realized that I managed to turn my lifestyle completely around. While I still listen a metal music very loud in my car and it is certainly bad for my ears, and occasionally get some second hand smoke exposure from some of my bodies smoking not really what you would consider to be a cigarette after surfing, my diet completely changed.
My grocery cart consistent of 4 pounds of apples, 3 pounds of pears, bag of turnip leafs, kale and mustard greens, 5 jars of peanut butter, cottage cheese, raw almonds, walnuts, eggs, tofu, 5 cans of sardines, some canned herring, basked of blackberries and raspberries. No candy bar, no beer, no chips, no sandwich, no chocolate. It really amazes me, how my diet radically changed.
13 steps program for becoming invincible
I developed the 13 steps program you can apply to your daily life, that will make you jump from healthy to invincible. This is highly challenging way to live and quite frankly, only small percentage of people will get even close to following it 100% right. Are you one of them? Are you ready for the biggest challenge in your life? Will you be able to follow it, teach it to you closest ones and become invincible. If yes, get ready for the challenge that will change your life forever. It really is wort it. Your health is at stake. Become invincible!
Related articles