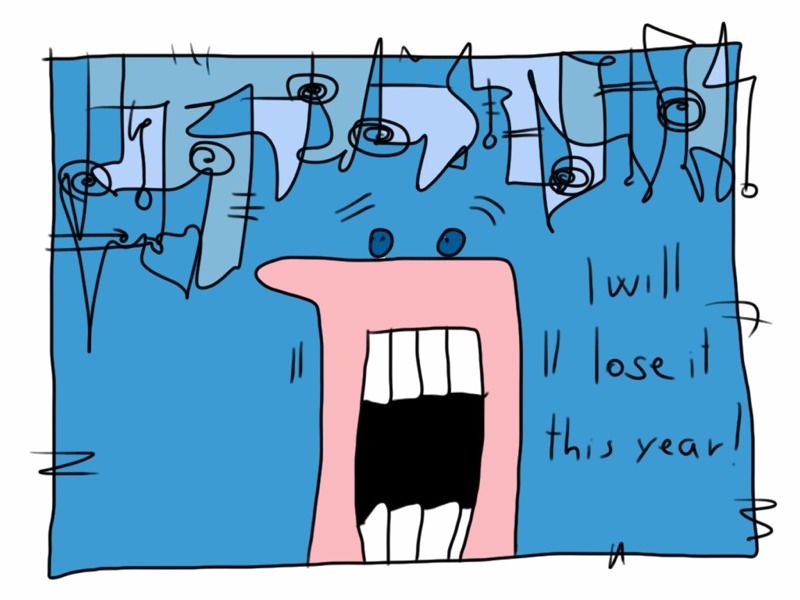 I know, it is been written many times how to lose weight permanently in books, magazines and Internet. And I think there is a lot of good information out there about weight loss and how to become skinny forever. The problem with all this information is, that it doesn't work. People obviously know what to do, but it is difficult for them to follow it.
Everybody knows that she/he needs to exercise and eat healthful diet. But majority of people choose not to. Even though they know exactly that those are the things they will help them to loose it. The reason they don't do these basic stuff is because they are hard to do. Yes they are hard. They are uncomfortable. And on top of it all, you have to do it consistently day in and day out. Who wants that? Life should be easier when we get older, shouldn't it?
Our mind seeks comfort by following our habbits
The problem is in our minds. We know we have to do it for our health and look, but we are not willing to give up the good stuff and we would rather spent time watching our favorite show, than suffer in the gym on some cardio equipment. And in spite of all the warnings about risks of being overweight, we are getting heavier.
In coming articles, I will show you how to succeed in loosing your weight permanently. It's in our power and everybody can achieve it. It primarily comes down to our habits we ingrained into our days over long period of time. Yes, just a tiny little change in your life, that you manage to keep up with everyday makes a huge difference in your life. And one bad big thing or good thing you do once per month or once per week will most likely not make much of a difference.
So, for example, if you have 1 glass of wine and just a little bit of ice cream every evening, on most of your days, than you are putting about 150 extra calories into your body every day. That can make a huge difference over long period of time on your overall body weight. 1 pound has about 3500 calories. And if you divide 3500 by 150 you will get number 23. That number is an amount of days that will take you to gain 1pound of body weight. Which is most often just plain 1 pound of fat. Of course in practice, it's not that simple. But as an example it's pretty straight forward.
Basal metabolism
Basal metabolism is the energy that we need just to survive without doing anything physically or mentally. Our muscles, lungs, brain, heart and other organs are constantly working and they need energy to keep working. We all have certain basal metabolism. And everybody's basal metabolism is different.
Usually those very fit muscular people's basal metabolisms are much higher than those sedentary people that have less muscle mass on themselves. Muscle is an organ that needs energy to be maintained. That's why building extra muscle is really effective for weight loss. It's actually the base of every successful and healthy weight loss.
If you build extra muscle and slowly over time change your lifestyle to very active lifestyle, your ideal lean, fit, healthy body will be set on autopilot. That means, you can still enjoy stuff you like, of course in moderation – deserts, pizza, pasta, chocolate and stay lean forever. And this is the holly grail of lean, fit and healthy body. Who wants to think and stress over loosing weight all the time? Nobody! If you have to stress about everything you put into your mouth, you'll never lose weight. It's simply too hard.
In my case, I hardly meet people that are leaner than me. But usually the once that have the serious weight problems stress the most about the stuff they eat. Me on the other hand, I never stress about having a desert after my dinner. Or I seriously binge on everything, cheesecakes included on Thanksgiving dinner without feeling guilty. I basically don't really try hard to eat well, and often I don't. And in spite of that, I am incredibly lean. I will bet you anything that I eat more calories in my day than you do.
Start getting your basal metabolism up now
This is my secret to my lean body and my six pack abs. My basal metabolism is very high. My body burns calories when I don't do any physical activity at all like a perfect Roman candle. It burns, burns and burns without stoping. My only duty is to give it enough calories to keep my body going. And that includes some of the good stuff in our life's like – deserts, cakes, bread, pizza.
Does that mean, that I work out every day all the time. No! I don't! I do work out. And I do work out intensively. Very Intensively. But my workouts are often only 20 minutes long. And I will show you how to do this later. The key is to push those muscles to the limit for short periods of time and generally become more active in your life. With that I mean very simple things like, walking more, driving less, having fun outside playing frisbie on the beach or just playing golf or catch with you kids. Forget the mindless hours spend on treadmill or elliptical trainer. Yaks! What a terrible way to loose weight.
It's not fair
It's not fair, that people who try the least to loose weight, me included are the leanest. And people like you who try hard everyday, thinking about weight loss constantly, doing everything you can are having weight problems. I want to change that. You deserve better. And the difference between me and you is that I know few simple tricks that I use every day to keep my body super lean. I will share these tricks with you in coming chapters. Weight loss is not hard, if you follow these simple tricks. And I want you to feel the same way.
Related articles
>>The healthiest drinking choices
>>The best investment in the world