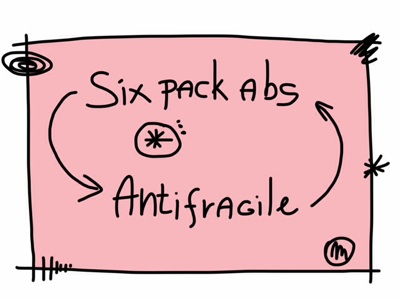 I am obsessed with durability, fitness, strength, survivorship, the things that makes us stronger and antifragile. Yes, having six pack abs is one of them.
Here I wrote few thoughts from a great book I read recently: Antifragile from Nicolas Nasim Talleb. Enjoy, get inspired and make becoming an antifragile person your mission. And achieve six pack abs in the process. Ready? Set. Go!
Antifragile
Six pack abs means untifragile. (I am sorry Mr. Talleb, but you forgot to mention this one in your book).
"It builds character."
I'd rather be dumb and antifragile than extremely smart and fragile. You can be smart an antifragile. I am! 🙂
Cato looked at comfort as a road to waste.
The automation of airplanes is making flying dangerously comfortable, dulling the pilot's attention from too little challenge.
If tired, go to the gym for some exertion instead of resting. My man!
Most humans squander their free time, as free time makes them dysfunctional, lazy, and unmotivated.
Criticism for a book is a truthful, unfaked badge of attention, signaling that it is not boring. Can you please hate me too? At least some of you? At lest little bit? I don't want to be boring!
It is only when you don't care about your reputation that you tend to have a good one. I am working on this one!
To detect the independence and robustness of someone's reputation: those who dress outrageously are robust or even antifragile in reputation; those clean-shaven types who dress in suits and ties are fragile to information about them.
Those from whom we have benefited the most aren't those who have tried to help us (say with "advice") but rather those who have actively tried – but eventually failed – to harm us.
Machines are harmed by low-level stressors (material fatigue), organisms are harmed by the absence of low-level stressors (hormesis).
Much of aging comes from a misunderstanding of the effect of comfort – a disease of civilization. I am going to fight like hell to hide computer games from my son!
My trainers note:
I had a session with a very successful woman recently. At least it looked like she was. I will let you judge for yourself. Luxury car, sophisticated thoughts, all business, ambition, wanting to do that and that and else. She had sort of increadibly high self confidence. Nobody is good enough. She is the big shot and so on. You get the point. I kind of had a lot of fun training her. Yet when we got to the floor to do few simple crunches, she couldn't do any and on top of it she couldn't even lift herself up without pulling a muscle here and there. We ended the session with few little injuries. Yes, I am a trainer and I am suppose to prevent these. But I couldn't make the workout easier. It was the easiest, most basic think you can do in the gym. And she got hurt. All I can say is: incredible sign of fragility! I see this all the time my friend Nicholas!
Your bones will become weaker if you spend a lot of time riding a bicycle and swimming.
Humans tend to do better with acute than with chronic stressors, particularly when the former are followed by ample time for recovery, which allows the stressors to do their jobs as messengers. Pull ups, my friends!
Touristification castrates by sucking randomness out – converting activities into a script.
When you starve yourself of food, it is the bad proteins that are broken down first and recycled by your own body – a process called autophagy. I do this regularly!
Someone who has made plenty of errors – though never the same error more than once – is more reliable than someone who has never made any.
My characterization of a loser is someone who, after making a mistake, doesn't introspect, doesn't exploit it, feels embarrassed and defensive rather than enriched with a new piece of information, and tries to explain why he made the mistake rather than moving on. These types often consider themselves the "victims". Please don't be one!
Avoidance of small mistakes makes the large ones more severe.
Stability is achieved by managing noise, having a mechanism for letting it run its natural course, not by minimizing it.
Small forest fires periodically cleanse the system of the most flammable material, so this does not have the opportunity to accumulate.
Stochastic resonance, adding random noise to the background makes you hear the sounds (say, music) with more accuracy.
I once procrastinated and kept delaying a spinal cord operation as a response to a back injury – and was completely cured of the back problem after a hiking vacation in the Alps, followed by weight-lifting sessions. Best cure for back pain? Strength training!
We are separated from the real world. The media only report the most anecdotal and sensational cases (hurricanes, freak accidents, small plane crashes), giving us a more and more distorted map of real risks.
Success brings an asymmetry: you now have a lot more to lose than to gain. You are hence fragile. Hmmmmmmmmmm! How am I going to deal with this one!
The exercise regimen: going for the maximum weight one can lift, then nothing, compared to other alternatives that entail less intense but very long hours in the gym. This, supplemented with effortless long walks, constitutes an exercise barbell. True words Nicholas!
"F*** you money" – a sum large enough to get most, if not all, of the advantages of wealth (the most important one being independence and the ability to only occupy your mind with matters that interest you) but not its side effects, such as having to attend a black-tie charity event. Big truth! It takes antifragility itself to have some fuck you money on the side.
Switzerland is the most antifragile place on the planet; it benefits from shocks that take place in the rest of the world.
Those endowed with that very rare ability called imagination, that rarer quality called courage, who make things happen. I am learning a lot here!
Steve Jobs at a famous speech: "Stay hungry, stay foolish." He probably meant "Be crazy but retain the rationality of choosing the upper bound when you see it."
I know many so called successful people, that already "made it". And all I can tell is, that I am happy that I didn't – yet. Most of them are fragile, even the smallest things throw them out of the line. Baby crying on the plane. Stuck in a little traffic. Having to answer few phone calls and face few uncomfortable conversations. O my! Please don't let that happen to me!
On other side I know a child care workers, that handle crisis after crisis, decisions after decisions, scream after scream and all that with empty bank accounts but dealing with these stuff with sincere smile and happiness to serve.
Anyway, if I ever make it, I want a fat bank account, but being able and regularly dealing with difficult situations like some child care workers or waiters in restaurants. I deeply inside admire and respect these people.
Empiricism: the onus is on the doctors to show us why reducing fever is good, why eating breakfast before engaging in activity is healthy (there is no evidence). Exactly! I haven been eating breakfast for years now!
The hidden costs of health care are largely in the denial of antifragility.
Diseases of civilization result from the attempt by humans to make life comfortable for ourselves against our own interest, since the comfortable is what fragilizes.Hey, start surfing on San Francisco's ocean beach 52 degree water. You'll feel untifragile immediately!
What Mother Nature does is rigorous until proven otherwise; what humans and science do is flawed until proven otherwise.
Overriding nature requires some very convincing justification on our part.
Lifting weights increases your muscle mass . In the past they used to say that weight lifting caused the "micro-tearing of muscles," with subsequent healing and increase in size. Today some people discuss hormonal signaling or genetic mechanisms, tomorrow they will discuss something else. But the effect has held forever and will continue to do so. Amen!
Theories come and go; experience stays.
We can cure many causes of diabetes by putting people on a very strict starvation-style diet, shocking their system.There is my business idea. I will lock you in the cage with only fresh fruit and vegetables in it. And you'll pay me for it! I think it would work.
Drink no liquid that is not at least a thousand years old – so its fitness has been tested. Where is my die coke!
Money has its own iatrogenics. Separating some people from their fortune would simplify their lives and bring great benefits in the form of healthy stressors.
If you take risks and face your fate with dignity, there is nothing you can do that makes you small; if you don't take risks, there is nothing you can do that makes you grand, nothing. And when you take risks, insults by half-men (small men, those who don't risk anything) are similar to barks by nonhuman animals: you can't feel insulted by a dog. Woof, Woof, Woof. Don't listen!
Company executives are no entrepreneurs – just actors, slick actors (business schools are more like acting schools).
Six pack abs is antifragile! Did I say that before?
I heard that Nicholas Nasim is incredibly fit guy, doing intensive strength training and playing competitive tennis on religiously regular bases. I don't really know if he actually has a six pack abs, but it certainly wouldn't surprise me.
So you want the secret to your own success, health and happiness? Become antifragile. Six pack abs is a pretty good sign of antifragile person. That's where the secret lies my friend. Stomp the comfort, seek discomfort, get six pack abs and become antifragile.