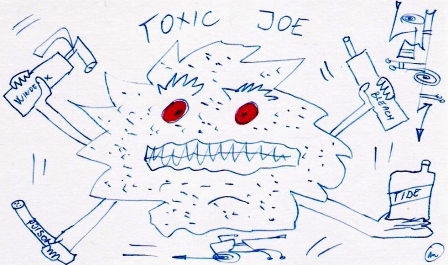 Eating perfect invincible diet and doing everything necessary to become invincible is one thing that we have in our full control. Staying away from toxins and dangerous toxic chemicals is another. These stuff can be only partially under our control. But you can do a lot to minimize toxins from your life.
And you are partially already doing this by eating diet consisted of whole foods, and staying away from processed conservatives, sugar and flour loaded foods. Our body doesn't recognize these on first sight harmless substances. While keeping toxins on check by eating good diet, there are another kinds of toxins all around us. And you need to put some effort to avoid them.
Dirt is not that bad, really!
I know people who start fricking out as soon as they see a death spider, dog poop, sand in the car, dirt in the pool, green looking lake, smell of a bad yogurt in the fridge or a smell of a death animal in the nearby creek. Most of the time these stuff are totally harmless to us. Why? They are organic. They come from nature. They are totally natural.
We feel very comfortable and pleased by swimming in clean blue pool that's full of chlorine, or hanging out at the rooms with new carpets. We enjoy new smelly cars and we generally like clean disinfected environments. The problem with all these stuff we enjoy is, that they are very dangerous for our health. They are clean, new and disinfected by chemicals. The kind of stuff that is very toxic for us.
We would be way better leaving that living room floor dirty, dog poop included, that cleaning it with bleach and keeping it sparkling clean. Just the thought. That's why I am not a kind of guy overly obsessed with cleanliness. Actually I almost never clean stuff. I am more likely to walk around the dog poop at my living room and kicking it under the sofa, than taking a bottle of bleach and cleaning it. Yes, you don't want me to be your roommate at all.
You might say, Milan you are turning Berkeley. Like all those granola people over there! Yes, I live very close to Berkeley. But, no I am not turning Berkeley. I love Berkeley and all those people anyway. But this is not a certain kind of fashion here I am talking about. This is a serious stuff. Chemicals are a real threat to us humans. Cancer is on the rise, we are getting brain death and very sick over time. And big part of it is huge chemical exposure. And if you want to be seriously healthy, you have to try to avoid these chemicals as much as you possibly can. It's not fashion, it's life and death mater.
Toxins are all around us
Whenever you are washing dishes, cleaning your house, replacing carpets, doing laundry, taking shower, washing your hair, putting moisturizer on your skin and many many other activities, you are using some potentially harmful chemicals. And also, whenever you go out somewhere, either its outside or inside you are exposed to chemicals.
I work in the fitness industry and hang out a lot around gyms and pools. While this kind of work might seem like really healthy work environment, I get a fair share of chemicals exposure. There is chlorine and bromine in pools and hot tubs. The locker rooms and gyms are cleaned with all kinds of chemicals. And ivy growth and insect repellents are used to keep environment pleasing. Luckily I work mainly outdoors in a beautiful wooden environment and the air is always ventilated and chemicals are kept on minimum.
Keep your environment well ventilated
Either you work in the office or you are staying at home, or work in the workshop, try to keep your environment constantly ventilated. It is the best way how to prevent breathing chemicals trapped inside. Keep the windows open. Create air flow. Breath fresh ventilated air. If you are cold, put extra layers on, or do some push ups, pull ups or jumping jacks every 30 minutes or so to keep blood flowing.
I do this all the time. In fact, I can't stand closed, warm, unventilated areas. It gets me to fair amount of conflicts with my family and coworkers too. When I open window on a cold day, people tend to frick out and say things like: you are crazy Milan, what are you doing, it's freezing outside. While I try to educate people about this, I am not very successful with it.
When I am cold I simply hang on the bar and do 20 pull ups or do 50 squat jumps. I do this quite often. My days turn this way into incredibly active workout days. Sometimes at the end of the day when I count how many pull ups I did, I get really surprised. I did this recently, and counted 237 pull ups in one day. I doubt monkey in ZOO does more than that.
One argument people usually use to stay in warm, closed environment is than they will get sick. They say, that they don't want to catch a cold. But the opposite is actually truth. People, event those very knowledgeable and intelligent don't understand, that they get sick by getting into a contact with germs and not with cold. And germs love unventilated areas. So you are more likely to get sick in warm room with closed windows, than if they put your office desk on top of Mount Everest at – 30 degrees of Fahrenheit.
Many new parents make this mistake too. While their intention is good and they want to protect their baby from cold, they overheat their homes and they keep windows closed so the baby doesn't get his hands cold. But it's way better for the baby to be in colder, more ventilated environment. The little body of a baby is much more sensitive to chemicals trapped inside. If you have a baby at home, open windows frequently to bring in fresh, clean air.
Anyway, trust me on this. Keep your environment ventilated at all times. You not only prevent inhaling indoors trapped chemicals, but you will be way, way less likely to get sick. The only exception in this is, that you live close to a dangerous chemicals exposing factory. In this case, my only advice to you is to move far away from there.
Don't put anything on your skin you wouldn't put in your mouth
Is your skin dry? You want to put something on your skin after a bath? Put olive oil on your skin or almond oil or coconut oil or butter. Yes, the one you buy in your grocery store. Would you eat olive oil? Of course you would. Would you eat skin lotion from your drug store. I don't think so. Same with coconut oil and almond oil. They are delicious and they are great for your skin. No chemicals and preservatives are inside the olive oil bottle. No, there is only one thing – olive oil. And they smell naturally great too.
One way for women to avoid chemicals is to put coconut butter on their skin instead of some body butter made in the factory. Thai kitchen whole fat virgin coconut milk in can can be a great body butter and very healthy and naturally good for the skin. You open the can, take the fat from the can, that's the butter (fat tends to separate from the juice) put it on the skin and drink the juice while doing it. When my hands get dry I put some 100% coconut butter on them and it protects them naturally. And they smell like coconut too. I used to put petroleum jelly on my hands. Not anymore!
Our skin absorbs stuff. The stuff you put on your skin will eventually get inside your body. So why would you use all those chemicals loaded lotions? I don't see any reason to do it. I put only olive oil and coconut butter on my skin, nothing else. There are some other great options, like real butter or lard. But I don't feel like opening a fridge and cut a piece of butter every time I need some skin lotion. I simply open an olive oil Bottle I used last night for my salad, pour little bit on my hand and put some on my skin. Or I open a coconut milk can, take some fat out of it and put it on my hands, and use the rest for delicious smoothie.
How about soap? How are you suppose to get clean? You wouldn't eat soap, would you. Believe me, there are some soaps that are totally eatable. And you should use those soaps. Vegetable glycerin soaps are great and not toxic. While you would be safe eating them, please don't. They are not that tasty anyway. You should use the same vegetable glycerin soap for hair washing too. I don't care what Head and Shoulders company say, the plain natural stuff is best for you.
Use protection – rubber glows and get outside
Whenever you don't have a choice and you have to use a chemical, use robber glows. Make sure it doesn't touches your skin. And try to handle this chemical outside or in very ventilated area. If you don't have a choice to go outside, simply don't do it, use something natural to do it or refuse to do it. If it is a part of your job, quit that job now.
Your health is the most important thing it the world. Way more important than the profits you make for your boss. I don't care how big unemployment is right now, or how the jobs are tough to get, or economy is bad. I would rather become homeless and live with my family under the bridge, than work in the chemicals infested environment. It's way better to be homeless than suffer a terrible death 10 years down the road from lung cancer. Jobs like this shouldn't exist in the first place. Your life is too short and very precious for that.
I know a place I would never work at. It is a commercial pool cleaning and supply chain. Always when I go there to buy stuff from them and enter the store, incredible smell of chlorine and other chemicals blow me away. As soon as I am there, I am basically sprinting to buy all the stuff I need and I try to get out of there as soon as I can. While at the register, smiling employee tries to chat, I am telling him that I got to run. I will come up with something like, my grandma is sick and she needs my help right now or other lies.
This is simply unworkable environment for me. And if they offered me 2 million dollars per year to work there, I would turn them down. And so should you.
Spent a lot of time outdoors in nature
Hanging out outside hiking, walking, doing sports, doing you cardiovascular exercise or just relaxing is not only great for your brain, it's great for your body too. It's part of the toxic chemicals reduction strategy in your life. There are way less toxins outdoors, especially attractive outdoors like woods, mountains, lakes, beaches, than anywhere else indoors.
They say, that the cleanest air is jut at the top of the ocean. And how do you get to breath the cleanest air there is? You become a surfer. If you don't live in the area where there is a good brake, make sure your vacations will be at the beautiful ocean coast. No, you don't really have to become a surfer. Just hang out at the beach playing Frisbee, soccer or beach volleyball. You will get to breath the cleanest air there is.
I live in San Francisco Bay Area. And this area has a reputation of having the cleanest air in the world. And I believe that. While you would think that living in a huge metropolitan area like this has to have some serious impact on the quality of the air, it's the cleanest. Why? If you ever been here, you certainly experienced fogy parts of the days that are here regularly. You wake up into a foggy morning. Than by 1 pm it clears out, sometimes doesn't, and the fog rolls back in in the evening and it will take all the smog with it when it disappears. Plus the smell of the cool ocean is so refreshing here on regular basis. I wouldn't change it for anything.
We human beings were Suppose to spend big chunks of our time outside on fresh air and sun. And than after industrial revolutions we are stuck in the dusty, stinky, chemicals infested offices. To make things even worse, we hang out after work inside dusty, stinky gyms, coffee shops, shopping malls and homes watching tv.
Suddenly going out seems like very rear thing to do. If we are smart enough, we make it somewhere to the nature on the weekend. Others, not that smart stay home or go shopping.
I encourage you to find a way to make it outside more often. Make your afternoon workouts outside. Spend your office breaks outside. Just make it a rule to hang out outside more.
One of the people I admire the most, and at the same time am a little bit jealous of are those who travel from south or north of San Francisco to work in their offices and on the way back home stop at one of the great nearby beaches and surf for few hours before they get home from work. I don't know a better, healthier activity on a clean fresh air where you also get a great workout and learn fun skill than surfing. They carry their boards in their cars in the morning, they get done with their work and go surfing. And some of them do it before work and also after work. Talk about a perfect work- fun balance. If I lived in Moss Beach and worked in SF downtown, I would do the same thing.
Stay away from chemicals
Staying away from chemicals and toxins is not that hard. It's just a matter of realizing, that simple is often better. We don't need to put all that stuff on our skin to stay young looking. We will most likely stay young looking without them. We need to keep our environments well ventilated and hang out more outside. And we need to use less cleaning supplies. In fact, dirty can be very, very, very clean.
Some tips for safe cleaners at home:
For glass – use newspapers and water instead of Windex or the other chemicals. It will clean the glass even better.
For grease – use citrus fruit or any fruit juice, lemon is the best because it contains the least amount of sugar.
For wood floor – use water with little bit of olive oil
For tile and linoleum – soak few black tea bags in a bucket of hot water overnight. By morning it will be cool and ready. Tea is natural cleanser and it's wonderful for sanitizing.
For Carpet cleaning – rent steam cleaner and instead of store chemicals add cup of clear vinegar to the water.
For porcelain sinks, tubs and toilets – borax and baking soda are perfectly natural and safe.
For general clean up – use spray bottle with 3 parts water and 1 part of clear vinegar. For more serious counter cleaning, you can add just a few droops of bleach, you really only need few for killing power.
As a fabric freshener and room deodorizer – use natural oil with your favorite smell – lemon, rose, lavender, jasmine, rosemary. It will last and last.
For water stains – use water and vinegar
As detergent – make your own safe, Eco friendly detergent! I personally haven't done this just yet, but it is on my list and considering all those chemicals and allergens in regular detergents I buy in the store, I am very close to doing my own.
Chemically free detergent – you'll need a bar of vegetable glycerin soap, one box of washing soda, box of borax.
Here is how to do it:
Shave the soap into a pot of boiling water, about 3 cups. Add this highly soapy mixture to the 3 gallon pot of plain water. Stir. Ad washing soda. Stir. And if you want ad borax and stir again. Done!
Yes, I am not kidding here. All these stuff are really worth doing! They take some time to prepare, but they are completely natural. And while we rather buy the done stuff in the store because our life's are too busy already, we are not saving any time in the large-scale at all. We will most likely be death much sooner not spending some time to prepare these safe cleaners and buying the easy fast strong chemical in the store. What kind of time saving is that? Think about it and if you want to become invincible act accordingly.