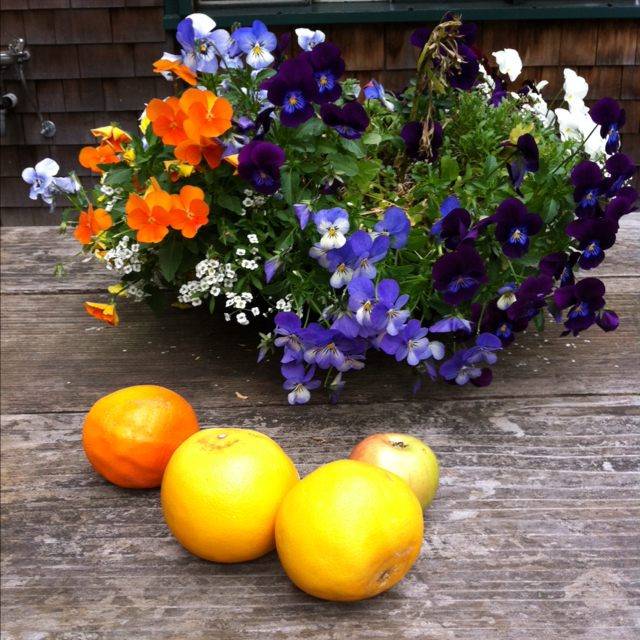 The newest misleading stigma in our six pack abs world is that eating a lot of fresh fruit is responsible for our inability to achieve six pack abs body leanness and all the health and energy that comes with it.
Not true!!!
It's 11:30 AM right now and I already ate 3 whole grapefruits, 2 oranges, 3 apples and one pear. And the day just started. That's already 9 pieces of fruit today I ate. And I'm by far not done yet eating fruit today.
Six pack abs and eating lots of fruit video:

And I've been eating these huge amounts of fruit for years now. And last time I checked my big fruit binging belly it looked like this:
This video was made couple weeks ago to motivate some of the young low on self confidence balding guys, I'm trying to motivate into living fit, well and confident life styles.
So it wasn't made for my six pack abs project. But I thought you wouldn't mind me sharing it.
I'm not trying to show off. I'm trying to prove my point.
I eat about 10-17 pieces of fresh fruit daily. No, I don't force myself doing that.
I like doing it.
So, if you don't like to eat lots and lots of fruit, than don't!
Eat some. But eat as much as you like. There is no limit!
It's something else that's making you fat, and I know what it is!
Milan, I don't eat fruit anymore! It contains a lot of fructose – sugar in fruit. That makes me fat! I hear that all the time.
Really my dear Berta? How about that wine or beer with crackers you're still snacking regularly while watching TV? That is ok for your six pack abs? And fresh fruit is not?
I could go on and on about what foods are robbing you of your own six pack abs health and leanness, but it is not fresh fruit! Period.
Eat fresh fruit – achieve six pack abs!
Not only you'll become great example for your kids and partners eating fresh fruit, it's also beneficial for your health and overall six pack abs leanness!
The benefit of eating fruit.
The benefit number one?
Six pack abs!
Yes! You have to eat fruit to achieve six pack abs. And the reasons are many:
Fiber + vitamins + flavonoids
Fruit contains fiber. Fiber makes you feel full and satisfied. Fiber slows down the sugar entry to the bloodstream, making it stable. No spikes up and down. That's huge!
Vitamins and flavonoids are believed to keep us healthy and cancer free. No need to explain further here.
How much fruit for your six pack abs?
The simple answer is, that there is no limit!
I never limited myself eating fruit. I often binge on it like I did today already.
But I follow few simple rules of eating fresh fruit:
Every peace of fruit eaten per day should be different.
It's ok to brake that rule quite often. Like I did today. I ate 3 huge grapefruits. But generally shoot for variety my fellow six pack abs achiever.
I don't eat fruit as a meal.
I eat it after a meal. Don't make fruit eating your meal eating. Why? Fruit does not contain protein and fat. And those are essential for six pack abs meal.
Today, it was a can of sardines and lots of fruit after. That's a meal. Sardines have fat and protein.
The only fruit that enters your mouth is a fresh fruit. No dried fruit. No fruit from can.
And that's pretty much it about fruit eating rules for six pack abs achievement.
You can and should eat variety of fresh fruit to achieve your own six pack abs visible and the bulletproof health it brings. Don't listen to those that tell you that you shouldn't eat fruit because of its high fructose content. Those are the ones who will blame fruit for their fatness. And they would rather keep their margaritas, bagels and crackers because they can't part with those. Eating a lot of fresh fruit is a healthy six pack abs habit. Go have an apple or orange or 10 of them now!
Related articles:
Year to six pack abs – week 23 – step 23
Six pack abs for people in late thirties and fourties – hustle free diet
Six pack abs most important step