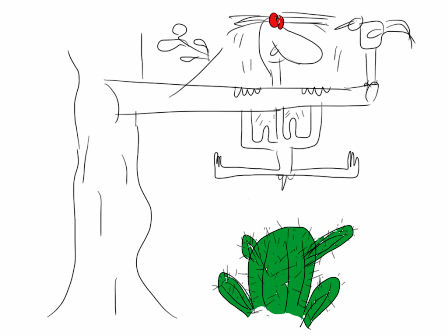 You know that popular question, when somebody asks you what one thing or one person you would take with you to the lonely tropical island. You have to choose only one, that's it.
If somebody asked me what 1 exercise I would choose to do for the rest of my life, if I could choose only one, I would choose pull ups.
Pull ups – the best exercise in the world
Pull ups, and it's variations are the best exercise in my world. And since I have a lot of experiences in work out choices, strength exercises and how to get fit and how fast, pull ups and all the variations of them are without question the best exercise in the world. Period.
I can't live without pull ups. I do them several times per week. They add hugely to my overall fitness. They are the core of my workout. If I were born again as a certain animal, I would be probably born as a monkey. That's how much I hang from a bar and pulling myself up. That kind of movement seems very natural for me. But it can be very hard for some people. Actually for majority.
I was lucky, when I was growing up, my father had a pull up bar at home an we would always compete between my brothers who can do the most. It was in our world the true sign of strength and fitness. It certainly helped me climb the fruit trees while I was stealing apples, pears and cherries from my neighbors trees. Sometimes they would chase me, or wait under the trees until I got down to catch me. But they never did. I was always too fast for them.
As a kid I was always dominating at sports, strength and agility exercises. And the most credit for that I give to pull ups. I did them regularly for fun. That habit stayed with me. I do them not for fun anymore, but to maintain my strength and fitness in the most efficient way.
Getting fit fast with pull ups
If you want to get fit fast, and stay fit forever, pull ups are the way to go. I will go as far as to say that, if your overall workout routine is missing pull ups, you have a way to go to become really fit. Of course, if you have certain shoulder problems you have to wait until they go away before you do pull ups. But if you don't and you exercise regularly and intensively and you think you are very fit, than I have to disappoint you. You are not. Pull ups will eventually make you, if you introduce them to your overall fitness plan.
Pull ups an six pack abs
Pull ups are at the core of my six pack abs workout. Yes, you heard that right. Pull ups together with intensive leg strengthening exercises are the most important if you want people some day to see the clearly visible chiseled abs on your stomach. And I give pull ups the biggest credit for my own six pack abs.
People mistakenly think, that they have to do lots of abdominal exercises to achieve six pack abs. Nothing is further from truth. Because you can not spot reduce fat, doing exercises that employ lots of big muscles are the key to six pack abs. And pull ups are one of them. They are the true calorie killers and metabolism increasers. There actually is very close correlation between people who can do at least 15 pull ups and six pack abs. And vice versa. If you don't have a six pack abs, you are most likely to not be able to do 15 pull ups. So if you want to have six pack abs some day, get used to doing pull ups. And get better at doing them. Which means being able to do more of them.
Your pull ups station
When I moved to San Francisco 10 years ago, in the first 3 years I changed the place I lived 6 or 7 times. Pretty common thing to do in San Francisco bay area. Especially if you are foreigner trying to find a better place to live. Crappy hostels and apartments in the weirdest areas are unavoidable if you want to survive, since you can't afford better one and you don't have any renting history, so landlords of the better places don't want to risk the hustle with you. What does this have together with the best exercise in the world – pull ups?
Every single time I moved to the different place in different area, the first thing, the very first thing I did, the same day I moved there was to go out for a walk to look for some place where there is a sort of a pull up bar, so I can do my pull ups there. And I always found it. This would become sort of a station of my control over my fitness, strength and health. One time it was on the little children's playground overlooking San Francisco bay with Golden Gate bridge in Italian, North Beach part of the city and the other time it was overlooking the Oakland Tribune building in downtown Oakland.
It really wasn't that important where this chin up station was, the important thing was, that my workout was getting done and that kept me sane, healthy and fit. And for that I thank mainly to pull ups as the best exercise in the world.
Pull ups can be done anywhere
Pull ups are the kind of exercise that can be done almost anywhere. You can always find a branch on a tree or pole somewhere where you live. Parks are full of pull up stations. You just have to look. If you can't find it, look better.
Pull ups at home
When life gets busy, and it always does, and you are stuck at home with a sick child or finishing taxes or other chores, it helps hugely to have your own pull up station ready somewhere in the house. And while you give little Johnny some milk, or crunch some numbers, you can do few sets of pull ups. Yes, you can find 25 seconds to do a set. Don't try to convince me you don't. I know. I am incredibly busy person myself and I get it always done. Little windows of time can be used for quick short pull up sets.
Do 5 sets of maximum amount of pull ups anytime you can, and you are on the way of having a great workout, without leaving a home and while still finishing your work.
Missing a pull up station in your home is like not having a running water in it. That's how I would compere it to. You have to have it. If only to hang on it to relax your back or so. I prefer to do my pull ups somewhere outside on the fresh air or in the gym, but my home chin up bar is always ready for those unexpected times, when I am stuck at home. And I occasionally have to use it too.
Your homework
If you don't already have a pull up station somewhere around your home, go out and find it. Than, get one of those home pull up stations, install it or let somebody else install it for you. You need it. Trust me. You really, really, really need it. Don't rest until this is done. And than, if you are not already doing pull ups, start doing them. Get better at them. Master them. And some amazing things to your overall fitness, well being, health and confidence happen.
Anyway, those were my words about pull ups. I love them! I cant live without them! Get inspired and become the same – the person who can't live without pull ups and does them regularly. They are the best exercise in the world after all and shouldn't be missing in your fitness plan.
Related articles
>>Highly functional workout – somewhere just behind your house
>>Office workout – beginner #1
>>Physical fitness and mental toughness